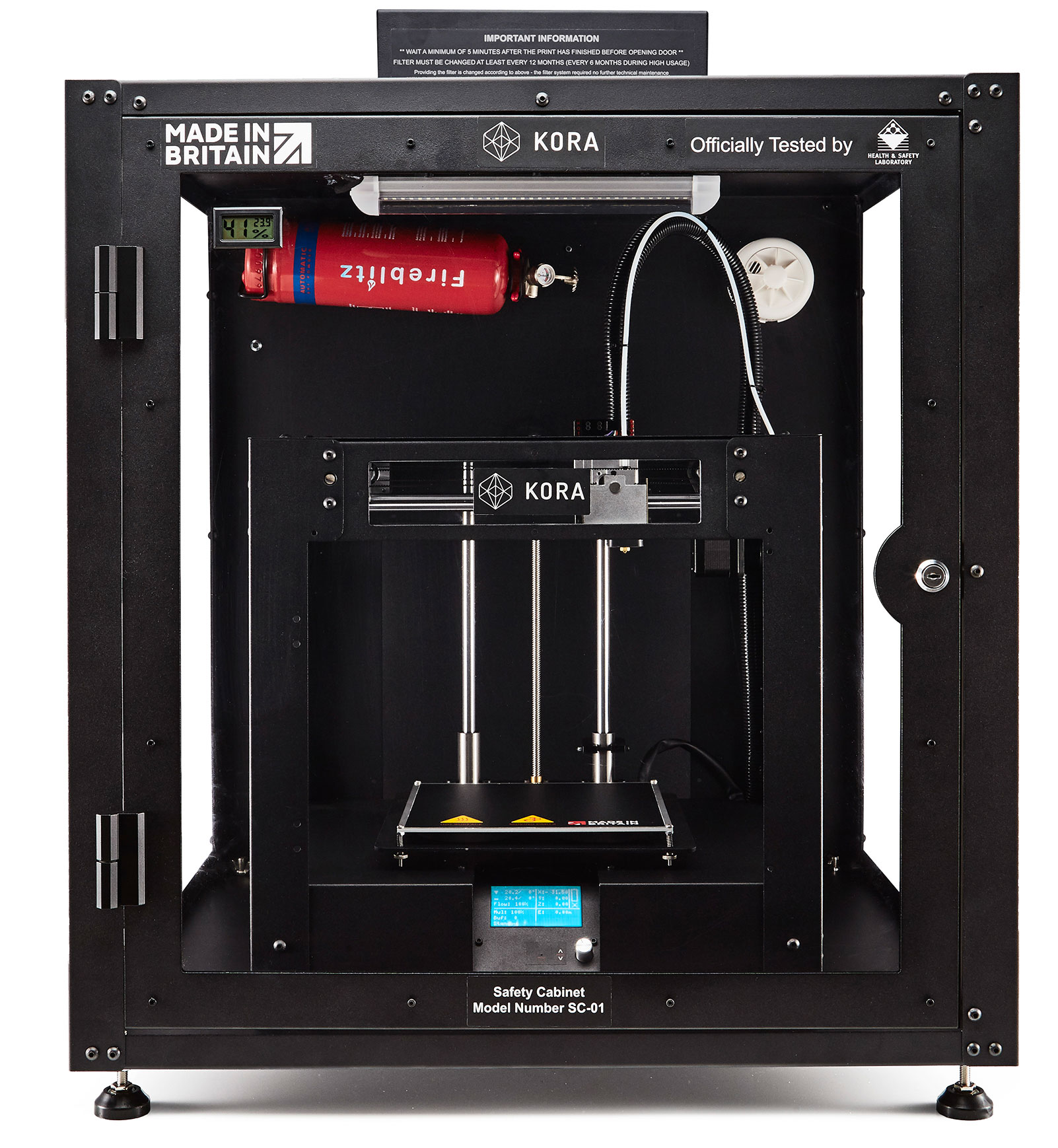 3D Printer Safety Cabinet
Specification
Technology Particulate Filtration System
Conformity CE Marked, HSE Laboratory Tested
Airflow System Mono Speed Negative Pressure Direct Air System
Construction Powder Coated Steel
Packaging Cardboard - Part Flat Packed System
Tested To BS EN 1093 (2006) Safety of machinery — Evaluation of the emission of airborne hazardous substances — Part 3
Clear Panels and Door Fire and Shock Resistant PETG
Door Lock Cam lock Style (supplied with x2 keys)
Voltage 12 Volts DC
Filter Type Specially Constructed HEPA / Active Carbon type with Pre-Filter - Maximum 400 hours Use
Power Supply (Switching Type) 100-240V AC 50/60Hz - 24W / 12V 2A
Power Supply Connector 2.1 x 5.5 x 12mm Barrel Style / Fixed UK Style Plug
Power Supply Conformity UL, CE, ErP VI
Power Supply Safety Features Built In Over Voltage / Over Current and Short Circuit Protection
Serial Numbering System Unique Allocated and Recorded Number
Maximum Load Capacity (SC-01) 50 Kilograms Evenly Spread
Patent Pending Number 1820397.6
Optional Lighting Kit LED Light Unit(s) - 12 Volts DC
Optional Fire Extinguisher Dry Powder Automatic Trigger @ c. 79C
Optional Heat Sensor Alarm 10 Year Built-In Battery System
Optional ST-01 Safety Trolley Powder Coated Steel Construction
Maximum Load Capacity (ST-01) 120 Kilograms Evenly Spread
How does the Kora Safety Cabinet (SC-01) work?
Manufactured and fully tested by the UK Government Agency HSE (Health and Safety Executive), The Safety Cabinet (SC-01) works on the principal of drawing in clean air through lower vents on the SC-01, and gently washing it over an operating FFF / FDM Desktop 3D Printer before exhausting it back out through a specially treated 'easily replaceable' high volume HEPA / Active Carbon Filter system. This removes the emitted and potentially dangerous human ingestible particles (including Ultra Fine), many toxic chemicals and unpleasant odours potentially produced by many different filaments during the desktop FFF / FDM 3D Printing process
This harmful particle removal has been established and proven after severe in-depth and comprehensive 'real time' testing at the official UK Government Health and Safety Executive Test Laboratory to BS EN 1093 (2006) Safety of machinery — Evaluation of the emission of airborne hazardous substances — Part 3
Further, the SC-01 has many additional safety features included. It is fully enclosed and has a key lockable front access door to prevent other potential hazards present on most desktop FFF / FDM 3D Printing Machines, these include:
'Burn' hazard from the extremely hot 'printing head' often reaching temperatures in excess of 250'c and the 'heated build plate' sometimes reaching temperatures exceeding 100'c
'Trap' hazards (fingers, hair, clothing etc.) caused by numerous mechanical parts and belts moving on any open or exposed gantry systems
Significantly reduces the background machine and cooling fan noise of any FFF / FDM 3D Printer machine during operation
The key lockable SC-01 has the ability to be screwed or bolted to the user desktop surface so preventing opportunist theft of the Desktop 3D Printer machine or the SC itself and denies any unauthorised access to the machine
The enclosed SC-01 prevents 'gusting' drafts of air caused for example by an open door or window on a windy day. Such 'gusting' drafts can seriously affect the final quality of any 3D Printed model part
By the addition of an optional integral fire detection / extinguishing system, and being constructed of steel and fire resistant clear PETG sheet materials, using the SC-01 would suppress the spread of any 'open hearth' fires in the case of any catastrophic machine system failure (most relevant to non CE approved and home DIY constructed 3D Printing Machines)
The SC-01 Safety Cabinet is supplied in 'part kit form' for convenient shipping and is supplied complete with a comprehensive pictorial build instruction manual. The SC-01 should take no longer than an hour to construct from the box (click here to download / view a short timelapse video of building the SC-01)
What additional accessories are available for the SC01?
A Fully Automatic Fire Extinguisher can be added inside the SC-01, triggered by extreme temperature rise inside the SC-01
A Heat Detector Unit that operates in a similar way to a domestic smoke detector, but emits a continuous piercing alarm if the heat in the SC-01 rises significantly above expected levels (c. 55'c)
LED lighting can also be added to enhance the SC-01, 3D Printer and the model that is being printed. This is particularly useful for videoing 3D prints and poorly lit areas
An independent heater system can also be added to the SC-01 to establish an increased ambient printing environment temperature, proved beneficial for printing of certain 3D Printer filament materials
Summary
The Kora SC-01 Safety Cabinets development has been overseen by CLEAPSS during its extensive independent testing by the official HSE UK Government Laboratory. The SC-01 is an effective affordable solution for education establishments, work places and homes to offer safe FFF / FDM Desktop 3D Printing